If there's ever been a time for you to use Instagram for marketing your business, it's now. South Africa, along with the rest of the world, is facing an unprecedented change like never before. And, this has an impact on how you do business.
Let's talk about using Instagram effectively so your business stands out. Social media networking is popular. If you're trying to keep your head above water with the "Corona" out there, you may want to consider upping your marketing strategy. As businesses scramble to survive in the current economy, using Instagram effectively could be the marketing tool you need.
Instagram is easy to use. It allows you access to your market in the simplest of ways. Consumers aren't shy to use their mobiles so why not get your message right where it needs to be? In their hands! If your business needs to reach the person on the ground, Instagram is a direct and effective marketing tool to use.
Here are nine tips to help you make your Instagram marketing effective while ensuring your business stands out.
1. Become Familiar with Instagram
If you haven't used Instagram before, then make sure you're familiar with how it works. Download the app onto your mobile and play around with it. Prep your Instagram marketing campaign. Know what you want to get out of Instagram when marketing your business. 
2. Use your Time Wisely
Like all social media networking and marketing campaigns, you can spend too much time posting and not enough time on your actual business. When preparing your marketing campaign, ensure that you allocate a time every day for when you will use Instagram. Don't get distracted! Use Instagram's own time monitoring service to track your time effectively. 
You also need to make sure that you're posting at the right time of day. Don't post while your followers are asleep – post when they're on their phones instead!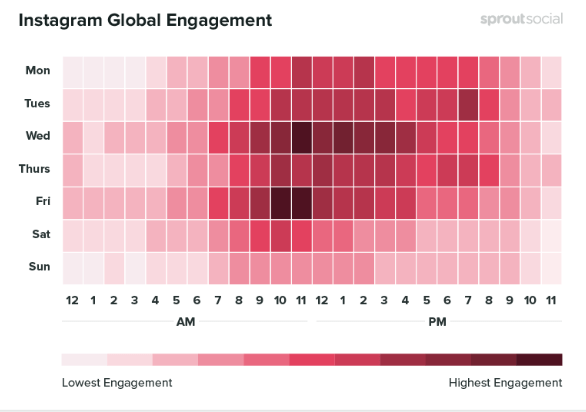 Source: Sprout Social
3. Grab Attention with Vibrant Visuals
The key to Instagram marketing is to grab the attention of your audience. And what do people love? Photos and videos. The more colourful they are, the more effective your visual can become in creating information about your business. Be smart with the image you use. Let it convey your message while using minimal words. 
4. Keep your Followers Engaged
Engage with your followers regularly. You want them to remember you and your business. Be sure to post often but do not go overboard. Once a day is considered effective. Even every second day is enough. 
5. Understand Your Audience
Part of your marketing strategy is knowing who your audience is. To use Instagram effectively for your business, you need to reach the right group of users. Instagram has a tool that allows you to target specific users. It is also important to match your posts with the type of user you're targeting.
Hashtags are an effective way of engaging with your followers. Using keywords with the hashtags, you can alert your target audience and even attract new followers. Up to 30 hashtags can be used on a post, but that doesn't mean that more hashtags equal more engagement. Stick to your main keywords to pick the best ones.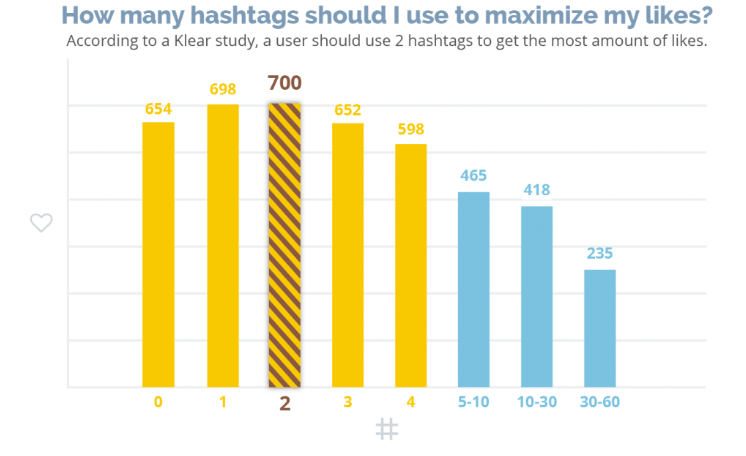 Image courtesy of ampjar.
7. Engage with Your Followers
Let your followers know that you appreciate them. Engage with them by replying to their comments. Take it one step further and comment on some of their own posts in their accounts. This may seem time-consuming but people like to feel acknowledged and they'll respond by giving you their loyal support.
8. Keep Up with the Trends
Like every other social media network, Instagram works hard to keep their business effective and up-to-date with the latest trends. The same should apply to you as the user. Not only should you keep up with the latest changes on Instagram but also be aware of what attracts your followers. Instagram allows you the freedom to adjust your marketing strategies, so use it. 
9. Get the Professionals to Help You
If you're not sure how to use Instagram to its full advantage, consider approaching a marketing company to help you with your marketing campaign. Experts can ensure that your business does not get left behind.
Final Thoughts
Many businesses are floundering right now. Yours doesn't need to be one of them. This is the time to review where you are and how you can market your business effectively. Simply review and re-structure your business's marketing strategy. 
Consider all the marketing options available to you. Get creative and think out of the box. Make your brand the one to follow. By using Instagram effectively, your marketing campaign will turn your brand into your customer's first choice, every time.