Coronavirus has had a severe impact on the financial position of many businesses. It is thus very important for businesses to look at where they can decrease unnecessary expenses.
One such avenue is discounts offered by tools and software. Here's a list of marketing tools offering free use, grants or discounts to support businesses during this time.
Ahrefs

With various tools ranging from rank tracking to content research, Ahrefs is a staple for many marketers. 
Ahrefs Academy, which teaches users how to apply Ahrefs' tools and data, announced that its course, Blogging for Business, is now free. The course contains just under 5 hours of information and various tutorials, and the regular cost is $799.
Facebook Ads
Facebook announced that it would be offering $100 million dollars to small businesses in countries in which it operates, including South Africa, as part of its efforts to provide aid during the coronavirus crisis. 
The money from these Facebook grants will be distributed in the form of cash grants and ad credits, and Facebook has said that it is aiming to help up to thirty thousand eligible small businesses that have been affected during this time.
Google Ads
Overall, Google has committed $800 million dollars in aid, of which $340 million dollars is aimed at small and medium-sized businesses.
This money will take the form of Google Ads credits, and is available to businesses that have had active Google Ads accounts over the past year. 
Business owners will be notified of these credits via notifications in their Google Ads accounts, and they can be used until the end of 2020 across Google's advertising platforms, including YouTube, Search and Display.
Hootsuite
The social media management system Hootsuite has announced that it will be providing its Hootsuite Professional plan for free to small businesses and nonprofits until July 1, 2020.
This plan is geared towards businesses that have been particularly disadvantaged by the outbreak, including restaurants and hotels, and no billing will occur after July 1st. 
Hootsuite Professional allows users to manage up to 10 social media profiles, and comes with a monthly post boost spend of $500.
HubSpot
HubSpot's response to coronavirus's impact on its customers contains a lot of value for businesses!
To help these businesses get through the epidemic, HubSpot has decreased the cost of  its Starter Growth Suite from $112.50 per month to $50 per month for new and existing customers. 
HubSpot has also lifted the email send limits on its Marketing Hub for Professional and Enterprise customers and increased calling limits for Starter and Professional customers of Sales and Service Hub for a limited time.
Mailchimp
The email software company has announced that it will be giving $10 million in Mailchimp service to its small business customers impacted by the coronavirus outbreak.
Additionally, nonprofits and public service organizations that are responding to the crisis will be able to use Mailchimp's Standard plan for free for three months starting from April.
Businesses that are existing Mailchimp customers and have 25 or fewer employees can also apply for three months of free usage, and can apply here. 
Ubersuggest
Although Ubersuggest offers both paid and free plans, both are now offering their members more.
Paid members will now have access to bi-weekly training calls with Neil Patel himself, live chat functionality to be able to get customized advice from Ubersuggest's SEO team, and a private group chat which will either be created in Slack or on Facebook.
Free users will enjoy up to four times more results for Ubersuggest's Content Ideas and Top Pages reports, as well as full access to historical data for traffic estimates and keywords.
Moz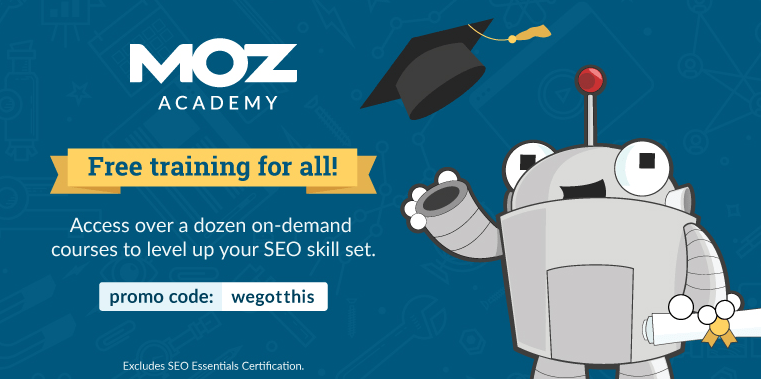 Moz made the announcement that the courses in Moz Academy would be made free for a limited time!
The well-known SEO toolset's academy includes a variety of courses for people looking to improve their skill-set or learn something new. 
There are courses on backlinks, keyword research, client onboarding and much more, so you are sure to find something that piques your interest!
The courses usually cost up to $300, so you can be assured that they are well-researched and contain valuable information. These courses are free until the end of May, so if you're interested, you'd better hurry!