PAY PER CLICK MARKETING (PPC/ADWORDS)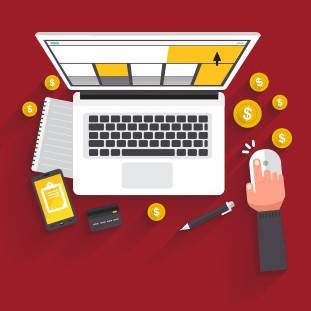 Without a doubt the fastest way to drive high quality traffic to your site immediately.
PPC marketing gives you complete control over who your marketing efforts reach.
Every aspect of PPC marketing has a clear and measurable target, ensuring that you get a ROI.
With PPC marketing you only pay when a potential customer clicks on your ad.
Pay per click (PPC)
Ranking in the top for Google search results is hard, but that's where you need to be in order to get the amounts of business you want. This is where Ruby Digital, a leading pay per click agency in South Africa, along with PPC marketing can assist you.
PPC marketing is one of the greatest ways to drive high quality/targeted traffic to your site immediately. PPC marketing allows you to have complete control over your marketing efforts, letting you target customers based on factors such as; keywords, location, time and date etc. ensuring that your paid search ads are seen by the right people, at the right time. PPC marketing gives you measureable results from the get-go, enabling you to monitor and ensure that you are getting the ROI you want.
A lot goes into creating a successful PPC marketing campaign, Ruby Digital has positioned itself as a leading pay per click Cape Town agency with many years of experience with PPC marketing, giving us the ability to offer the highest quality pay per click service available.
If you are wanting to start a pay per click campaign, choose Ruby Digital, the company delivering the best paid search Cape Town has to offer.
Benefits of Pay Per Click Marketing include:
Growing your customer base due to being connected with people deliberately seeking a product like yours.
Benefiting from the low cost alternative of advertising online.
Ruby Digital has been a great asset to our team. They have a wealth of knowledge in the digital space and are able to assist with various online aspects. They are always willing to assist, explain and train. The team goes out of their way to offer additional support and guidance. They show a real interest in our success which ensures return on investment.
Kidz City has been using Ruby Digital and we have seen our business grow due to our better rankings. I would not hesitate to recommend them to anyone wanting to see their business grow!
You guys are awesome! Professional personalized service, great doing continued business with you. Ruby Digital helped us achieve great sustainable results over a short time frame in an aggressive IT industry.
Our Accreditation's